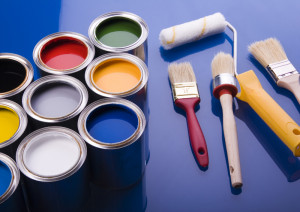 For those looking to give their home an upgrade, one of the most popular ways to transform the style and design of the property is by painting both the interior and exterior of the building. It will work to enhance the quality of the space, as well as keep it current with the latest shades for a convenient and easy process.
Affordability
One of the main benefits of painting a home is the affordability that it offers. The cost to paint home can cost as low as $100 dollars for a single room, as exterior paint jobs are as low as $2,000 dollars when hiring professional home painters. The cost to paint a bathroom ranges from $250 to $475, as kitchens cost anywhere from $175 to $375.
When selling a home or wanting to increase the value, many people look to expensive remodeling projects that easily average at $10,000 and can take several months to complete. Painting is an easy and affordable upgrade with a short timeframe needed to complete.
Increase in Home's Value
Few realize just how much home painting can increase the value, as it will work to increase the curb appeal and allow the home to appear younger. By painting the trim, interior, exterior, as well as stairwell walls, it can easily add several thousands of dollars to the property by making it appear brighter and more spacious.
Update the Design
Paint shade trends often change every few years, as taupe was a popular choice in the early 2000s to blue shades in the 1990s for paint home. It's important to update the colors every five to 10 years for a home that looks modern and overall appealing.
Similarly, crown molding can be repainted, as well as ceilings, for stronger accents that can enlarge a home or even make it appear more cozy.
Hide Marks and Blemishes
It's normal for wear and tear to occur in any home over the years, between minor scuffs to permanent stains. Painting immediately creates a clean canvas that looks fresh and corrects blemishes that are impossible to clean. Repainting works best in homes that have children, where wear and tear on home paint occurs more frequently.