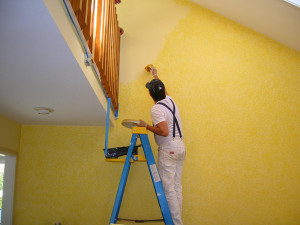 Due to the cost of many home renovations, individuals may question the wisdom of choosing to paint their homes. However, there are a number of practical reasons to choose home painting as their next project. Both interior and exterior treatments offer a number of advantages to homeowners, whether they are established or are seeking to put their houses on the market. If individuals should choose to either paint their own home or hire a professional service, it can prove a surprisingly affordable undertaking. Here are a few of the best reasons to why home painting should be next on a homeowner's "to-do" list.
Interior Painting
Painting the inside of a home can be one of the easiest ways to refurbish an existing design concept. It can also be a great way to create a new scheme based on a fresh color idea. Generally, property owners can usually accomplish these small projects themselves, and add a new skill to their home improvement repertoire. Homeowners all over the nation can discover the best ways to accomplish different effects and create new moods utilizing an inexpensive medium. It can also function as a quick way to brighten up a dark room or a space that feels cluttered. By changing the color of the paint on the walls, for the cost of painting the interior of a home, owners can a new look and a different feel to the space they live in. Should property owners choose to select a team of professional home painters, relative pricing and quality of work should be carefully perused.
Exterior Painting
In order to obtain the best results for an exterior home painting project, it is usually advised that the services professional home painters be engaged. This will ensure evenness of texture, coverage, and tone of the entire exterior surface and will more than justify the relative cost of painting a home. Painting a home offers a number of benefits to the exterior appeal and longevity of a structure. It acts in a similar way to interior home painting, to freshen and brighten the appearance of a house, making it both more noticeable and attractive. It will also function as a measure of protection against the elements of sun, wind, and precipitation.
When considered against the more extensive and expensive repair procedures needed to remedy dry rot and other depredations of time, the cost to paint a home is actually quite reasonable. Whether home owners have a traditional wood frame house, a stucco treatment, or a brick façade home, painting the home is a fantastic way to add value and lengthen the lifespan of a home's material. Simply by investing in home painting, property owners bring interest and appreciation to their abode.